5 Reasons Why Accountants Need To Be Marketing Online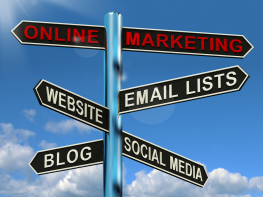 An ageing client base is an epidemic plaguing many accounting firms in this country. If you are looking to rejuvenate your ageing client base then you need to shift your marketing focus online and quick.
The evidence supporting online marketing for accountants is compelling. Surveys show that the 72.9% of Australians are internet users. Of those internet users, 74% of online adults use social media and spend on average 3.2 hours online on social media per day. Increasingly your target market of Gen X and Y business owners are spending more time online which presents a tremendous opportunity for accountants who are looking to rejuvenate their ageing client base.

Here are 5 reasons why online marketing can help regenerate your ageing client base.
1) Show your expertise with quality content
In the digital age, 'content is king' and it can be the difference between boom and doom for accountants looking to attract Gen X and Y clients. Prospects searching the internet crave one thing, how you can help them solve their problem. They don't want to be sold to, they want education and solutions to their pain points.
By offering educational content through whitepapers, blogs, webinars and newsletters you create an avenue to show visitors your expertise. You need to prove your expertise and create content that is informative and educational instead of pitching your products or services. Get it right and watch your website slowly become the lead magnet you have always dreamed of.
2) Permission Marketing is the Future
In the last five years courtesy of the internet, consumer behaviour has changed. Everyone has come to terms with buying goods and services online and not just books, music, white goods and cars – they also buy accounting fees online. Consumers have access to so much more information online and they are comfortable doing their basic research online before they contact suppliers. Gone are the days of interrupting consumers with tactics like cold-calls, pop-up ads, persistent sales calls and 'junk mail'. These methods have lost their marketing mojo and consumers now have the power to block your calls and ads, hang up on sales representatives and stop junk mail reaching their household. To rejuvenate your ageing client base you need to earn the attention of the younger generation online through 'permission' marketing methods.
3) Your Website is the Marketing Hub
Building a website that is a lead magnet designed to attract new clients is a process. If you think, 'build it and they will come' then you're going to be disappointed. A lot of accountants are in search of that marketing silver bullet but you need to have a strategy behind your website and know exactly what type of client you are targeting before you build your website.
As an accountant, your website also serves as a recruitment tool plus when you get a referral the prospect will probably validate the referral by visiting your website. You need to make the right first impression and the truth is, your practice will probably never reach its full profit potential without a remarkable online presence.
4) Don't just tell them, SHOW them
YouTube is now the second largest search engine behind Google and in 2015, the experts predict that 57% of consumer internet traffic will come from video. It's a very powerful medium that lets you tell your 'story' in a memorable format. I invite you to search other accountant's websites in your local area and see if you can find any quality videos.
It's a bit like trying to find a needle in a haystack and incredibly most accounting firms have been slow on the uptake of video production because it's all been too hard and time consuming. You need to write the scripts, record the footage and then edit the video with bullet points and titles to add a professional corporate look. But remember, Gen X and Y have embraced video and prefer to watch and listen rather than read online, so by embracing video and producing quality you'll stand out in the crowd.
5) Blogs
According to a report by HubSpot, businesses that increase the number of monthly blog posts via their website can boost their inbound traffic levels and lead counts. On average, companies that publish 15 or more blog articles per month generate five times more website traffic than companies that don't blog at all. Those that blog 9-15 times per month generate three times more traffic than companies that don't blog. Blogging drives website visitors because published content gets indexed in the search engines and shared through various channels, including social media. By committing to regularly publishing blog content you build up a powerful library of content and each blog provides another inroad to your website.
Remember, the more you link your online tactics together, the more effective they will be. Share your blogs and videos on social media and watch your search engine rankings rise as they gain views, shares and comments. Design a plan that links your online marketing tactics together and reap the rewards.
Conclusion
There's no doubt that online marketing provides a suite of powerful tools to help grow your firm's reach and reputation. Ultimately, the future for accountants is online marketing. Using tactics like content marketing, social media, email marketing, online video and others can help you create a powerful lead-generation machine that will put your firm on the path to greater profitability and success.
---
Click HERE to download a full copy of the March 2015 edition of The General Journal.
Other articles in the March 2015 edition of The General Journal:
How to 'Buy' Accounting Fees the Easy Way
The Leyland P76 Accountant
Ready Set Boom Seminar
Do Clients Buy Accounting Services Online?