Marketing Makeover PACKAGES
Over the years we have seen many firms in need of a marketing 'makeover' because the accounting practice has an:
Outdated Brand
A 'Billboard' Type Website (that generates next to no traffic) or
No Website
An Amateurish Client Newsletter
No Corporate Brochure or Downloadable e-Booklets
No Focus on Niche Markets – Industries or Services
No Scripts to Handle Calls from Prospective New Clients
A Lack of Marketing Direction
I'm sure you're familiar with the extreme makeover television program where a lucky individual is chosen to receive a 'makeover' at the hands of the nation's top plastic surgeon, a cosmetic dentist, hairdresser, makeup artist, fashion stylist and personal trainer. The 'marketing makeover' packages we have put together for accountants has similarities to the reality television show, however, it is certainly not as painful and the effects can last a lot longer.
THE MARKETING MAKEOVER PACKAGE
This is a two hour consultation at your offices that starts with an external review of the business. We look at your building, the reception area, your current client newsletter and business branding. We then examine your current marketing collateral to identify what's working and what needs working on. We discuss your marketing strategy and identify your niche markets including industries and specialist services.
If you are looking to rejuvenate your ageing client base then your website is a key tool. We include a review of your website (if you have one) and work through a marketing audit checklist to make sure your website delivers prospects and new business leads. This includes aspects like niche markets, inbound links, e-booklets, an opt-in subscribe box and video content. Social media channels are also on the list.
Of course, you need to convert prospects into clients so we help you with scripts to sell the appointment when they call. This is a really important part of the process. What do you say to a prospect when they ask you, "I'm not happy with my current accountant but what do you do different to other firms?" You don't get a second chance to make a first impression so we coach you and your team to handle these calls and have developed scripts that you receive as part of the consultation.
At the end of the consultation we put together a 90 day marketing action plan so you can map out the priorities and the process. The cost of the marketing makeover packages is $2200 including the conversion scripts and the 90 day marketing action plan blueprint.
If you are looking to just re-brand consider our 'off the shelf' brand offering that we have described as a 'brand in a box'.
THE EXTREME MARKETING MAKEOVER PACKAGE
If you're looking to really take your firm to the next level then we suggest you invest in the 'Extreme Marketing Makeover Package' that includes the following:
Consultation – it all starts with a 2 hour meeting and 'fact find' to establish your current marketing position and future marketing objectives. The session will include a review of your branding, website, corporate brochure, existing marketing materials and the identification of niche markets (industries and services) to potentially target in the future. We also discuss the strategies that could get you traction in these areas.
We also look at how to attract more referrals and discuss key strategies like search engine optimisation, video production and social media. Most firms struggle to 'ask' for referrals and hope satisfied clients will refer their friends, family and small business colleagues. To maximise referrals it needs to be systemised and we have developed a number of tools to help accountants win more referrals. We also believe your client newsletter is an underrated tool and discuss various options and how it can be integrated into your marketing plan.
The consultation takes place at your premises to allow us to also review your reception area and get a feel for the client experience. We also make software recommendations at this meeting and introduce business automation tools that could help systemise the marketing of your practice. At the end of this consultation you will have documented your 90 day marketing action plan.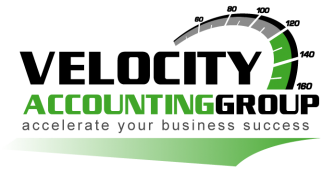 Branding – a complete review of your trading name, logo and slogan. Does it resonate with your target market? If your target clients are Gen X and Y then your brand needs to look modern, fresh and appealing. Over the past few years we have assisted more than 30 firms to refresh their brand. For example, in 2016 Abacus Associates re-branded and re-launched as Voltage Accounting complete with a new logo, slogan, colour scheme.
The use of surnames and partners' initials in the business name is what worked in the 20th century but it simply doesn't appeal to Gen X and Y. The slogan is a key part of your positioning with clients and the modern logo 'talks' to the slogan. The service includes advice to develop the name, slogan and logo. We advise you on the colour palettes to apply and using online graphic designers we can provide between 30 and 50 different logo designs to choose from within 7 days. These designers can also provide the files to give to your printer to produce your new office stationery including letterhead, envelopes and with compliments slips.
Website Review – your website should be your marketing hub and we work through a checklist of features you must have on your website to drive more traffic. We explain the basic mechanics of search engine optimisation and using a smart software tool we give you a list of inbound links to build. We show you how Google analytics works and demonstrate how easy it is to edit your own website and create a blog.
Please note, this package does not include the building of your new website.
Client Newsletter – every accounting firm needs a regular client newsletter that alerts clients to your full range of accounting, tax, financial and consulting services. It builds loyalty and while your newsletter won't directly lead to an engagement or 'sale', they often pave the way.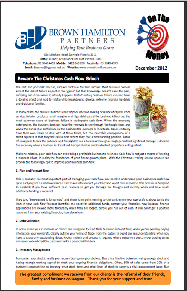 We recommend a quarterly newsletter and while most accountants could write and publish their own newsletter, it can be time consuming. You sacrifice valuable billable time and have to decide on topics, complete the research and then write the articles. Your newsletter can assist with client retention, cross-sell and up-sell your services plus help build new client relationships. They let you engage with your niche markets and provide the ideal forum to 'ask' for referrals.
Not surprisingly, many firms subscribe to a tax newsletter service like 'Client Alert' ($1260 per annum) or 'Tax Matters' ($780 per annum). The truth is, most 'off the shelf' newsletter services are full of tax law, cases and rulings which are of little interest to your average client. Most clients aren't interested in enrolling in a Masters of Taxation and the open rates can be relatively low. Clients really want to know how to grow their business and their profits and these newsletters generally don't satisfy their needs.
We produce a quarterly client newsletter exclusively for Australian Accountants called, 'On the Money'. It comes customised with your firm name and logo and it is totally different to the tax newsletters mentioned above. The content is designed to educate your clients about money, marketing, finance, tax planning opportunities and business growth strategies.
The purpose is to educate clients about strategies you regularly discuss with clients. The formula is to sell 'the why and the what' but not the 'how to' in your newsletter as you want clients to contact you for more tailored advice. It alerts clients to your expertise beyond compliance and strategically sells appointments in your specialist areas. This newsletter service is part of your Marketing Makeover Package and retails for $440.
In the 2 hour consultation we also show to send your client newsletter out to your entire database in seconds and then access reports that show you how many clients opened the newsletter, forwarded it to colleagues, visited your website and the details of bounced emails.

E-Brochures and E-Booklets – these 9 resources are designed to promote your full range of services and include your corporate e-brochure. They compliment several niche markets we recommend you target including business start ups, Self Managed Super Funds and negative gearing. Please note, these are electronic e-brochures and booklets designed to email to clients or hang off your website so prospects can download them. They are not to be used as website 'content' and don't come in a format suitable for commercial printing. These 9 brochures are only available in PDF format customised with your firm name and logo. These 9 brochures are part of the Marketing Makeover Package and retail for $660 including:
Corporate Brochure
Negative Gearing and Property
Thinking of Starting a Business?
Motor Vehicle Tax Guide
Thinking of Starting Your Own SMSF?
Accounting for Tradespeople
Industry Benchmarks for the Building Trades
11 Things Every Tradesman Needs to Know
Vehicle & Equipment Finance Guide
Conversion Scripts - all your marketing efforts are wasted if prospects call your office only to find you can't convert them to clients. We provide scripts and advice so you convert every call to an appointment.
Niche Markets – we identify the industries and services you should target and discuss the various ways to penetrate these niche markets. These niches might include business start-ups, self managed superannuation funds, clients buying negatively geared properties or specific industries likes trades people, physiotherapists or coffee shops.
The cost of this package is $3300.
Our marketing consulting services and tools are creating phenomenal results for accounting firms. We develop strategies and provide software, systems and processes to ensure your marketing generates a better return and more referrals. To discover more, call us today on (03) 9824 5300.