Case Study
LINDA McGOWAN PTY LTD
BRUNSWICK, MELBOURNE
IN HER WORDS
"We have been working with Pat and his team since 2012 and are a foundation member of the Accountants Accelerator Group. Thinking back, it's been an amazing journey. We used to worry about where our next new client was coming from but that's no longer an issue; we generally pick up at least half a dozen new clients every week from our marketing efforts.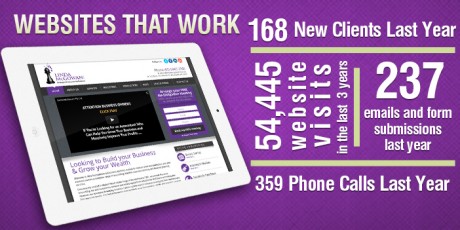 P J Camm and Associates helped us develop our new brand and a website that is standout in our industry. It's a big call but it's a fact, and our website traffic continues to grow. They have also helped us develop some serious points of difference including our industry niches and specialist services.
Pat's mentoring through this process has been invaluable and I'm now very confident talking to clients about their marketing, websites, SEO and social media strategies. Our value added services distinguish us from the competition and we are more than just accountants, we are a business advisory firm.
The best part is, everything is done for us, behind the scenes, on one system. The website, blog, email marketing, newsletters and social media is created in and rolled out from P J Camm and Associates, then we can log in and see all the data and outputs using one tool. We know what to expect, and have Pat's advice to interpret the direction it's taking at any time. Our job is to keep rolling out the red carpet for the new clients and ensure that they know from the get-go that the tax return is only the beginning of the client process.
I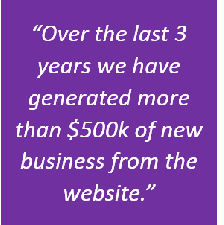 t wasn't easy in the early stages because we were learning new ideas and being challenged but over the last 3 years we have generated more than $500, 000 of new business from the website. This has created new challenges but I now love coming to work because we are having an impact on our client's businesses and their lives. Our biggest issue now is managing the growth, which I'm told is a nice problem to have in a profession that is being disrupted in so many ways. With the help of P J Camm and Associates we have systemised the onboarding process for new clients and some of their tools have made our job incredibly easy. For example, we attract a large number of business start-ups every month and their program 'Business Start-Up Manager' has made the consulting process so simple for this niche. The clients leave our offices so grateful for the advice, and then the automated series of emails, videos, checklists and templates blow them away. I have had cases where they have started referring new clients before we've even done any work for them."
CHALLENGE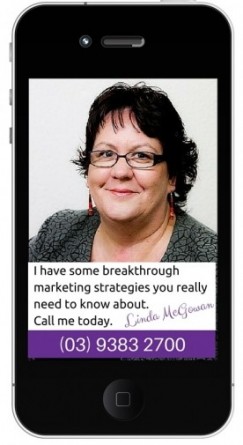 Linda McGowan Pty Ltd is situated in Brunswick, an inner Melbourne suburb about 4 kilometres north of the CBD. Brunswick is known for its local bohemian culture, a strong arts community and the cafes and bars.
The firm was founded by the principal (Linda McGowan) in 1995. As a sole practitioner, Linda is also responsible for the firm's marketing and courtesy of ongoing client referrals the firm had been experiencing single digit growth for years. Linda knew 'slow and steady' was never going to win the race and her major concerns and the reasons she engaged P J Camm & Associates included:
Her ageing client base, particularly with her larger client groups
The reliance on compliance fees, which were under pressure due to commoditisation
The demographics of the profession and her own succession plan to ensure her firm appeals to the next generation of buyers
By her own admission, Linda was very busy working in the business and had taken her foot off the marketing pedal. The firm needed an injection of some fresh 'blood', particularly Gen X and Y business owners to rejuvenate her ageing client base.
Linda became restless and she decided she didn't want to run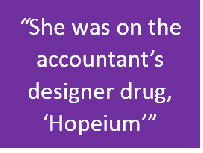 a 'compliance sweatshop' that almost exclusively focused on tax returns and compliance work. She felt her clients wanted and needed more value-added services and she was sick of competing on price with other firms for low level compliance work. It was becoming a slog. While her growth was steady, she was attracting the wrong type of clients. From a marketing perspective, she was on the accountants' designer drug, 'Hopeium' - she was just hoping that satisfied clients would refer their friends and family. The firm's website was attracting minimal traffic because it was fundamentally an 'electronic brochure'. It listed the who, what and where of the firm and was almost invisible to the search engines like Google.
In 2013 Linda found P J Camm & Associates. "I remember looking at several groups but they were marketers who had no idea about the accounting profession. When I saw Pat present at an accountant's conference, I knew he had his finger on the public practice pulse. At our first meeting we sat down to discuss what direction I wanted to take the practice and breathed a sigh of relief when I realised Pat wasn't just a marketing guru; he was an expert in the accounting profession. I knew right then and there that our marketing was good hands but I didn't realise how big an impact he was going to have."
Linda says, "We were really fishing in the wrong pond, looking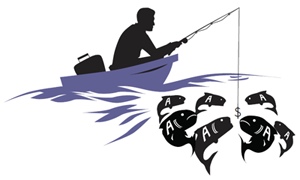 for the wrong type of clients. We were using the wrong bait and tackle to catch A-Grade clients so the team at P J Camm & Associates helped us create a new brand, build a website that targeted our ideal clients and produce fresh marketing content. It was smart and strategic and I'm so glad we aren't fishing in those dark murky waters anymore."
"Thinking back, we had a lot of clients who were struggling and we were attracting the bottom feeders. Our top 10 clients were probably on the wrong side of 55 and our referral engine had seized up. Brunswick was full of artists, musicians and tradies so we were perfectly positioned to seize the opportunity of helping the 'Entrepreneur Generation'. The problem was, that generation works online and we were not in tune with our target.

THE OBJECTIVE
Like most sole practitioners, Linda and her team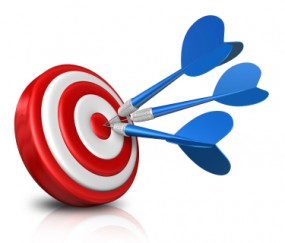 had been on the compliance treadmill since the introduction of GST. She recognised the need to provide more value added consultancy services to her clients and the marketing focus needed to shift towards small to medium sized businesses. The 3 year plan was to deliver a sustained period of fee growth and also help Linda develop a serious point of difference that would impact on the firm's profitability and business value.
Our brief included developing a marketing plan and blueprint for the future. The process was to review her branding and positioning in the market then identify niche markets and harness the power of the internet to win more of her 'ideal' type of client. In the process, we introduced a marketing system and a range of tools that the team all now use.
Strategic Objectives:
In the crowded accounting services market, the objective was to build a real point of difference and position the firm as business 'experts' and 'advisors'
Change the internal focus from compliance to consultancy to attract more small to medium sized business clients who are looking for business development and marketing consultancy type work
Communicate to clients and prospects the full range of services on offer and the fact that the firm is 'so much more than just tax'
Grow the practice exponentially over the next 3 years then target a growth rate of around 20% per annum for the following 5 years
Rejuvenate the ageing client base with Gen X and Y business owners
Involve all the team in building a marketing system and make sure they use the tools to automate the process and deliver consistent, quality outcomes
Reduce the focus on the Principal so she creates a business that works without her
Improve the firm's top line gross fees and bottom line profitability

Maintain the growth over a sustained period to maximise the value of the business and attract buyers on sale of the practice
SOLUTION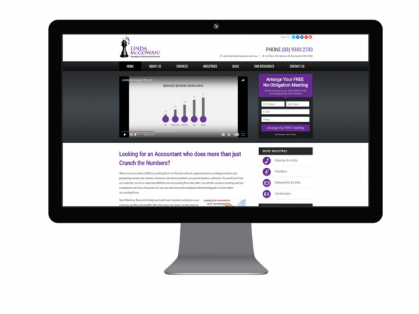 Marketing is a process that should be planned, logical and ongoing. The starting point in the process was to meet with Linda McGowan and complete a 'fact find' exercise and including an audit of the firm's current marketing activities. In this meeting P.J. Camm & Associates identified the principal's marketing objectives (outlined above) and completed a SWOT analysis.
A number of other key issues surfaced during this meeting including the firm's compliance focus and the fact that clients didn't really know about their full range of service offerings.
At this point in time the firm had no real focus or long term marketing strategy other than hope satisfied clients would refer their friends and business colleagues. Clients perceived the firm as a general tax practice with no specialist services or niche markets. Their website was a billboard, their branding was tired and there was no appeal to the younger target market.
Next we conducted a marketing strategy session to identify their potential niche markets and get a description of their ideal type of client. We built a profile including their age, their industries and also identified the types of services they might want from their accountant. From these two meetings we then had enough information to prepare a 23 page 'Marketing & Growth Action Plan' that made recommendations regarding:
Branding - development of a new slogan and logo to appeal to this profile
A Makeover of the reception area and meeting rooms
Website - content is king together with search engine optimisation and building inbound links to lift the search engine page rankings
Niche Markets – identify and target five industries
Referrals – how to win more client referrals
Marketing Essentials – corporate brochure, e-Brochures, e-booklets and a range of tools including a quarterly client newsletter

Given the history and goodwill attached to Linda's business name we decided not to change her trading name but we needed to create a positioning statement (or slogan) that resonated with her target market. Our re-branding recommendation included a new logo and slogan to modernize the look of the practice and make a statement about the type of firm and the services on offer.

The centre piece of the old brand (on the left) contained a poor quality logo and the vanilla colour scheme would not stand out in the crowd. The slogan didn't resonate with the target market or spell out the firm's real point of difference. The brand had aged so the new branding was designed to reflect a firm that is solid, professional and modern.
The new slogan addresses the target market (businesses of all sizes) and reinforces the fact that they do 'so much more than tax' by offering strategies and solutions. The queen chess piece symbolizes strategy, leadership and authority. If you know Linda McGowan, this brands fits like a glove.
Having identified the target market as young business owners aged between 20 to 45, a quality website full of rich content was central to the marketing plan. At this point in time it was also important to identify the niche markets and build some remarkable content for these areas:
Business Start-Ups
Clients Buying Negatively Geared Properties
Self Managed Superannuation Funds (SMSF)
Trades People
Musicians and Artists
Having a great website is one thing but you need to attract the right type of visitors to your website. Your content needs to incorporate key words and phrases and be recognised by the various search engines like Google and Yahoo. Search engine optimization (SEO) involves a number of other steps including building inbound links to your website and we did this as part of the process. As you will see, www.lindamcgowan.com.au is the firm's marketing hub and has produced outstanding results for the firm.
Prior to their involvement with P J Camm & Associates, Linda's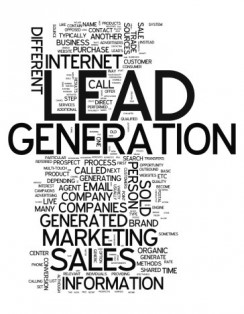 practise relied on traditional and conventional marketing - old school tactics such as referrals, flyers, Yellow Pages ads and some local paper advertisements. The company newsletter missed the mark because clients were not interacting with information on the latest tax cases; they wanted to know how to grow their business and their profit. The Business Accelerator Magazine that is produced for the firm delivers tailored content for an agreed and specified target market. Linda says, "We get so many positive comments about our newsletter and make no mistake, it drives consulting work because it positions us as experts in areas outside of compliance."
The functionality of the website was also very important. We needed to decide what features to include in the website like a secure client log-in area, a shopping cart to sell software and business booklets and a CRM system to send out client emails. The firm also wanted to capture website visitors and let them subscribe to their client newsletter, build a marketing database of prospects and run a blog. The integration of social media including Facebook and twitter into the website was also absolutely vital given the renewed focus on Gen X and Y business owners.
To reinforce the firm's expertise in their niche areas we also built a number of e-brochures designed to hang off the website for clients and prospects to download. We also introduced the team to a number of practical tools, templates, checklists and software programs designed to 'wow' clients in these areas.
For example, the 'Business Start Up Manager' software and the associated booklets (with their logo and contact details on the front cover) have been instrumental in positioning the firm as a leading authority for people starting a business in Australia.
The marketing success the firm has enjoyed is due to a combination of factors. You need to equip pro-active people with the right strategies, technology and tools to get great results.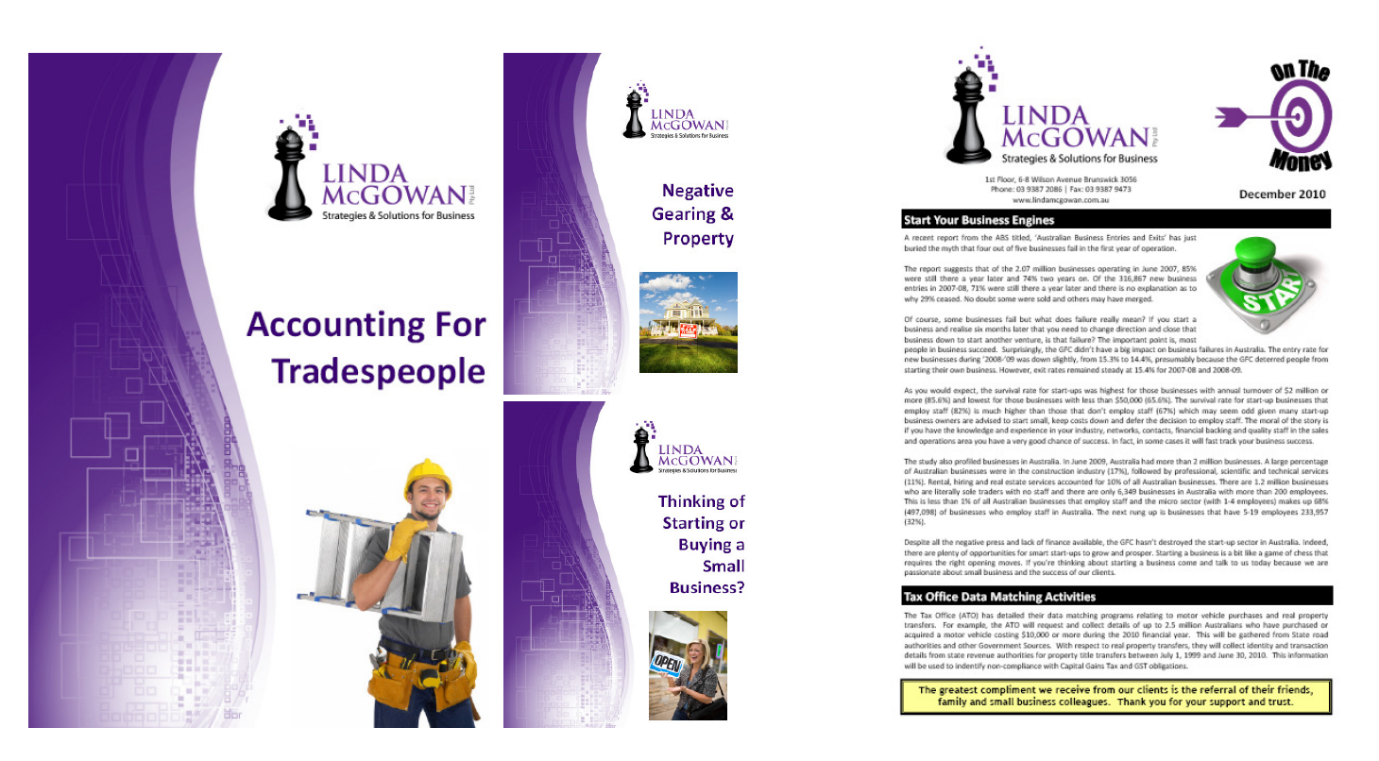 According to Linda, "The website is the star performer but we are starting to see the power and reach of social media. Our animated videos are marketing gold and we now help our clients produce their videos. It's a service I never imagined would happen but it's having an impact and driving referrals. We plan to introduce more new services to help our clients build their business which make us look proactive and innovative. Most importantly, our marketing is consistent and on schedule and it's genuinely exciting to come into the office every day".
With mentoring from P J Camm and Associates, Linda now helps her clients with their websites and they are seeing some incredible results. Satisfied clients are providing some excellent referrals and as Linda says, "It's more fun than preparing tax returns. The service is high impact and Pat has educated the team on the website essentials so they can do a quick audit on a client's website and that has opened the door to other consulting opportunities."
RESULTS
The results to date have been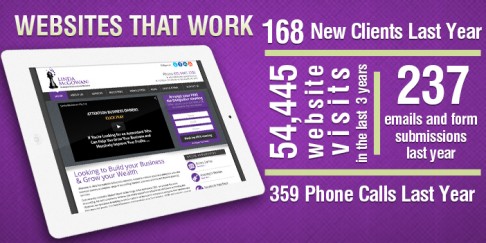 outstanding and the firm was forced to relocate to larger and more modern offices. It's fair to say that we have unlocked the referral floodgates in the practice and the team has grown and are thriving on the shift in focus from compliance to consulting. The growth has been significant, the type of client they are attracting is more in tune with the ideal profile they wanted and the impact on profitability has been substantial. While the practice achieved only single digit fee growth in the 3 years prior to contacting P J Camm and Associates, their first year with us proved a breakout year with 41% growth.
Over the past two decades Linda has built a reputation for exceptional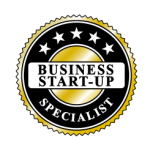 personal service and now, since working with P J Camm and Associates, she has developed a number of niche industries including musicians and artists. It is a perfect fit for the location of the firm and she has also developed a reputation as a business start-up specialist.
On average, the website attracts around 50 visitors every weekday which translates to between five and fifteen new leads most weeks. During September 2016 Linda's practice picked up 27 new business clients which converted to just over $70, 000 of new fees. Linda said, "The new website and the focus on niche industries was really a great tactical move. We were told to expect what Pat described as a 'snowball' effect. He was right, there was a trickle of new clients in the early months but the system gathered momentum. It's now an avalanche and it simply would never have happened without our involvement with Pat Camm and the Accountants Accelerator Group."
"Joining the AAG (Accountants Accelerator Group) has transformed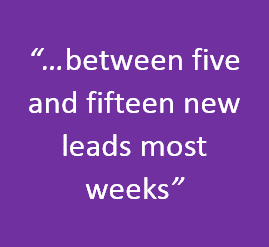 my firm and my outlook. We do more than keep the score for our clients and while it would be easy to attribute the results to just our website, it is a combination of the tools, strategies and people that has ignited the practise. The development of niches, the crafted content, the social media strategies, blogs and newsletters have all played their part. The best part is, the Accountants Accelerator Group is essentially a done for you program. We pay and Pat and his team deliver.
"We now have the luxury of selecting which clients we take on and we target clients who want more of our services which is raising the average client fee and the profitability of the firm. The constant flow of new clients makes every day more interesting and rewarding. It's been amazing and life changing."
Start Your Success Story
Arrange a FREE Marketing Consultation by calling us on
(03) 9824 5300 or completing the form below.