Websites for Accountants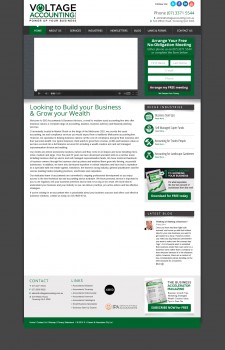 We don't build websites for accountants, we build lead generation machines that target your ideal type of client in your niche industries. The purpose of our Accelerator websites are to make sure you spend your time helping clients, not finding clients.
Please note, we don't offer websites to firms other than those who are members of the Accountants Accelerator Group.
You know prospective clients will pass judgement on your accounting practice in seconds when they visit your website and you only get one chance to make a good first impression. Increasingly, your website is the first touch point with potential new clients and an amateurish website or no website at all can mean a lost opportunity.
While there are a number of website vendors in this country that target accountants, you need to understand that not all websites are built equal in the eyes of Google and the other search engines like Bing and Yahoo. All too often accountants purchase an 'off the shelf' website that is really nothing more than an electronic billboard or brochure that lists the who, what and where of the firm.
These basic templates can look terrific, however, they are filled with generic duplicate content and the search engines like Google are 'colour-blind' and cannot see the images or layout. They can, however, read the content and will downgrade your page rankings if they are full of duplicate content. Clearly, there's no point having a beautiful website that the search engines don't rank. Content is king and if you want to appear on the first page of a Google search you need original content that is relevant to your target market. Ninety five percent of accounting firms in this country have websites that are really just electronic brochures - they are like billboards in the desert that get minimal traffic and they don't drive leads or referrals .
By contrast, the websites we build for members of the Accountants Accelerator Group are lead magnets. The content is unique and they target your ideal type of client, your niche industries and your specialist services. They are built to attract new business clients and several of our members report six figure returns year on year. You can read their case studies on the right hand side of this page.
Some accountants view their website as an expense but the members of the Accountants Accelerator Group view them as an investment. You need to measure your return on your investment and we believe the primary purpose of a website is to create the right first impression and generate new business leads.
The fact is, your website should pay for itself many times over and this is the distinction between our offering and other website vendors who work with accountants. We recognise the fact that your website is your marketing hub and we spend hours customising your content. Some of our member firms get in excess of 50 visitors to their site each and every day. Not only that, we know our content is quality because we detect other firms copying our content on a regular basis. While this is flattering, we take the theft of our intellectual property very seriously.

TESTIMONIALS
"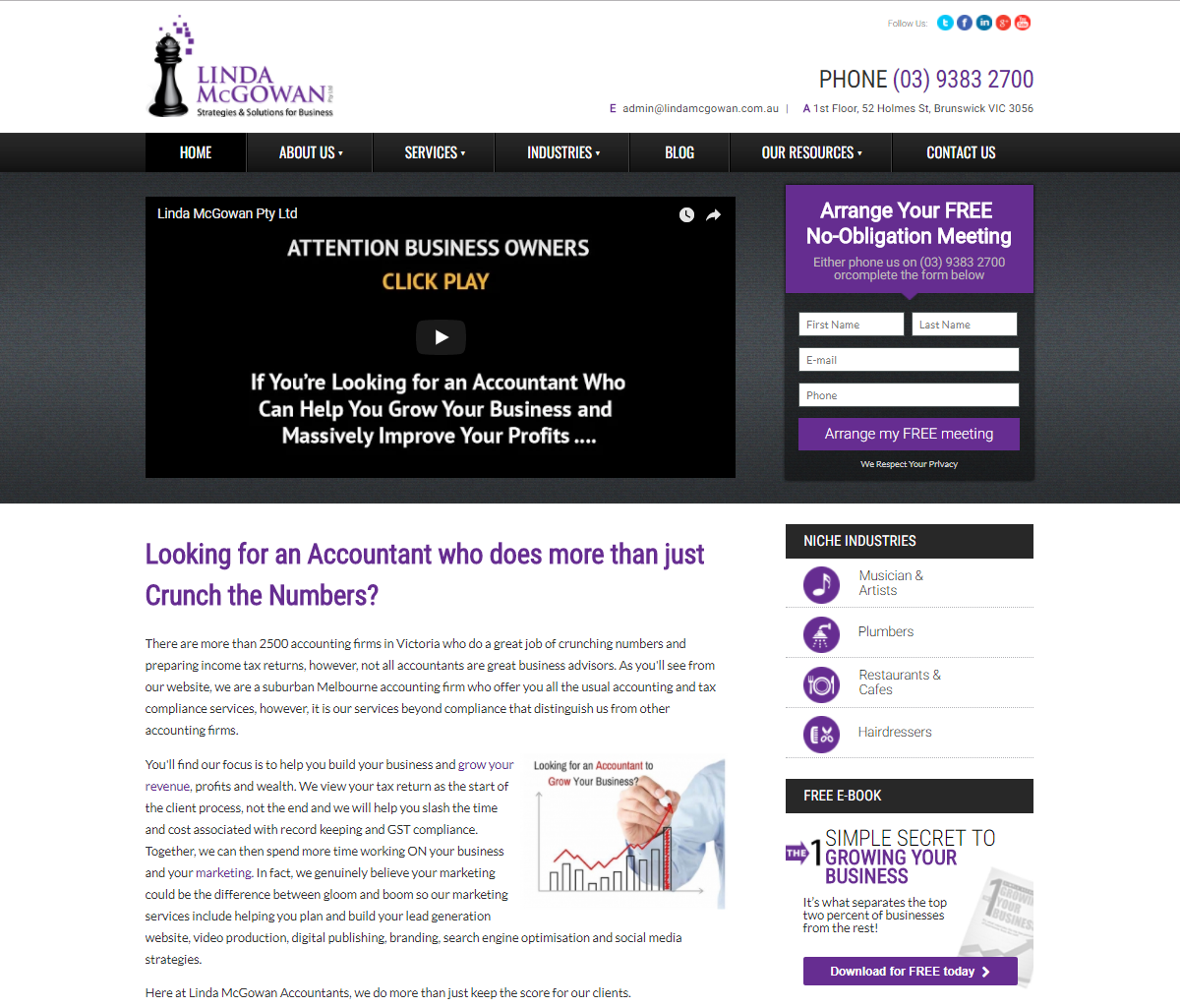 We are absolutely delighted with our website and its performance has far exceeded our wildest expectations. We worked with Pat to develop some content to target a specific industry last year and that strategy alone has generated more than $50k of new business in the last 12 months. All up, the website generated more than $100k of new business last year and it is already tracking to top that figure this calendar year.
Our clients are always commenting on the site, and we email out our quarterly client newsletters using the email marketing system built into the website. The introduction of a blog, some great e-books and e-brochures continue to improve the site and the support from Pat and his team has been sensational. The SEO has us as number one on numerous Google searches in our suburb and various niches like plumbers, musicians and cafes just to name a few. It is like having our own marketing manager on staff and it attracts new clients almost every day. We previously had a templated website that generated next to nothing but this website is a marketing magnet. Being a member of the Accountants Accelerator Group has also meant Pat has provided us with scripts, so we always convert prospects into appointments. Having said that, we now get so many leads we are in the luxurious position of rejecting prospective clients who don't meet our qualifying criteria"
Linda McGowan from Linda McGowan Pty Ltd.
You can view Linda's website at www.lindamcgowan.com.au
THE ACCOUNTANTS ACCELERATOR WEBSITE
Your website is the heart of your marketing engine and needs to pump out client newsletters, blogs and social media alerts. Members of the Accountants Accelerator Group who have invested in the programme including the Accelerator Website are reaping the rewards. If you want to attract Gen X and Y business owners to rejuvenate your ageing client base you need a website that resonates with your target audience and that includes social media links and a full email marketing system. The Accelerator Website is a professional, high quality website that is tailored to your firm's corporate image and targets your industry niches. The content is proven to attract new clients in your niche markets and the back end of the site contains a powerful email marketing system so you can promote your full range of accounting, tax and business advisory services to your client base.

The Accelerator Website tells people who you are, what you offer and most importantly, why you should be their accountant. If your current website isn't generating leads for your practice, then you've got the wrong website.
It also serves as a recruitment tool because we know generation X and Y candidates will check out your firm's website before they apply for a job. With a shortage of quality candidates in the profession, this aspect should not be ignored and we include a carefully constructed 'careers' section in our websites.
The Accelerator Website lets you compete with larger firms and showcases your expertise in niche industries and specialist services. It also cross sells your full range of accounting, tax and financial services. You can connect with your clients through newsletters and offer secure access to clients looking to upload confidential documents including tax returns and financial statements. You will be able to refer clients to your website with confidence and it will mirror the professionalism of your firm.

Some of the features of the Accelerator Website include:
A Customised Professional Website Design that matches your firm's image and colour palette.
Analytics that let you track the performance of your website so you know how many visitors you are getting, what your most popular pages are, where your visitors come from and lots more including live stats about who is on your website, where they are located and what pages they have visited.
The Content Management System makes editing the website's text and images as easy as editing a Microsoft Word document
Built in Google Analytics so you can measure and monitor performance
More than 100 pages of professionally written content
Tailored Content for a select number of niche markets. You can select from more than 60 different industries and services
An Email Marketing System and Tracking System
Optional Social Media Links
Blog Functionality

Some of our clients are reporting phenomenal results, and we only offer this website to firms who are members of The Accountants Accelerator Group. These firms are committed, proactive and ambitious firms who satisfy certain criteria. Member firms 'own' a geographic territory that locks other local firms out of the group.
The process of building the website takes a number of weeks because this is not a template type website with pre-filled content. We generally edit the site 10,000 to 15,000 times and obviously we can't write your firm history and staff profiles, so we provide you with templates to complete as part of the website building process. High resolution photos of the staff, group shots and the internal offices are important and if you don't have a client who is a photographer we can recommend a professional photographer.
COST
We don't just sell websites. The Accelerator Websites are only available to members of the Accountants Accelerator Group. The monthly website hosting/maintenance fee is $121 and includes any content changes you require, unlimited phone and email support, technical updates and upgrades to the content management system. The email marketing system gives you an email template complete with your website banner for easy recognition and up to 10,000 emails per month at no extra charge.
WEBSITE KEY FEATURES
Niche Markets
The website is specifically designed to be the marketing hub of your accounting practice. You can select up to 7 different niche industries and 3 specialist services. Each niche industry comes with a specific keyword-rich page of content plus a downloadable PDF brochure. These industry brochures are all customised with your firm logo and contact details.
You can select your niche industries from the following menu:
Automotive Mechanics
Beauty Therapists
Bakeries
Builders
Cleaners
Computer & IT Consultants
Carpenters
Cafes & Coffee Shops
Dog Wash & Pet Grooming
Earth Moving & Excavation
Electricians
Florists
Franchises
Gyms & Personal Trainers
Property Developers
Services Niches
Business Start Ups
Negative Gearing & Property
Self Managed Superannuation
Marketing Services

Harness Racing
Hairdressers & Barbers
Hotels & Bars
Importers & Wholesalers
Landscape Designers
Lawn Mowing Contractors
Manufacturers
Masseurs & Wellness Centres
Medical Practitioners
Mortgage Brokers
Motels & Accommodation
Musicians & Artists
Physiotherapists
Architects & Draughtsmen
Coin Laundries



Painters
Pet Shops
Plumbers
Pharmacists
Optometrists
Real Estate
Restaurants
Retailers
Solicitors
Sportspeople
Supermarkets
Travel Agents
Tradesmen
Dentists
Car Wash


Website Analytics
The website comes complete with in-built analytics so you can measure and monitor your website's performance. At the click of your mouse you can see how many visitors you're getting each day, which pages are your most popular, where your visitors are coming from (state, suburb and country) plus lots more.
You can see who is online at any time and what they are doing on your website. The system will display a list of members who are either currently viewing your website (or one of your emails) along with their recent activity. By monitoring live activity you will get a better feel for what marketing is working and you can analyse email reads, clicks, bounces and unsubscribe statistics. You can even create groups within your members so you can target them with direct emails - e.g. all super funds or investment property owners.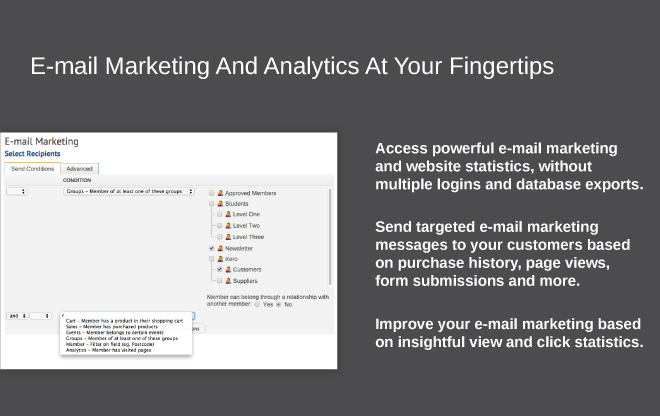 Edit Your Content
We use the Oncord content management system that provides website editing tools that require no technical knowledge. You can keep your website up to date through the use of an intuitive, easy to use editor. You can drag and drop your media into position on any page and this works for all types of media including images, video, audio, documents and PDFs.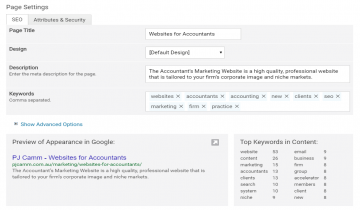 Search Engine Optimization
Surprisingly some content management systems hide important keywords from the search engines but the Oncord platform reveals the total page content to the search engines to increase your chance of higher rankings.
The system even reports when a search engine is in the process of spidering your website. Oncord rewards your quality content, resulting in a higher ranking on the search engines like Google, Bing and Yahoo. Enjoy technical features such as search engine friendly URLs, automated sitemap.xml generation, robots.txt - all out of the box without any configuration. Oncord also allows easy alteration of meta information for each page, in addition to child pages 'inheriting' this data through your website's page hierarchy.
Grow your Membership
Let clients and prospects subscribe to your newsletter and have a simple registration process to build your database of members.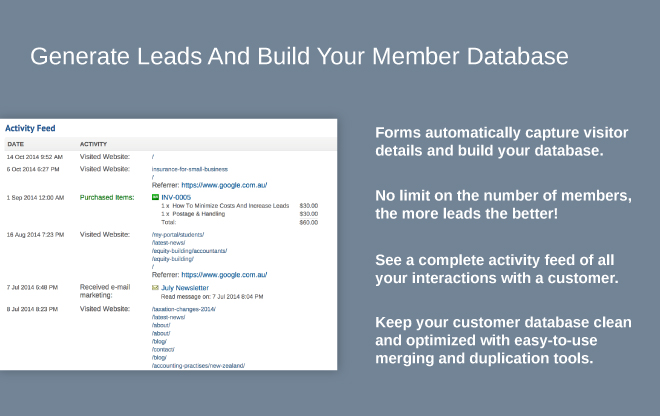 Frequently Asked Questions
Q. My domain is already hosted, do we need to switch to your website hosting?
A. No. You can retain your existing service provider.
Q. I don't have a domain name – can you help me?
A. No problem. We can organize that for you.
The Next Step …
Please read all about the Accountants Accelerator Group which is a pre-requisite to get an Accelerator website. If you're interested, we invite you to call us today on (03) 9824 5300.
Other Articles - Would You Like a Marketing Manager that Generates 50 Times Their Salary?