The Accountant's Accelerator Group is a marketing program specifically designed for proactive and ambitious accountants who want to spend their time HELPING clients, not FINDING clients.

Most accountants will tell you, new clients are the lifeblood of their practice but they are harder to come by than ever before. Prospects and potential new clients aren't picking up the phone like they used to. Well ... marketing and the accounting profession have changed courtesy of the internet, outsourcing and technology. Of course, when we talk about marketing we are not referring to traditional techniques like dropping flyers into letter boxes, local newspaper ads, face to face networking, club sponsorships or your Yellow Pages ad. These tactics have lost their marketing mojo and the new marketing magnets for accounting firms are all online tactics including - Google Searches, Content Marketing, Email Marketing and Social Media.

The Accountants Accelerator Group has a proven track record of delivering long term compound growth for firms of all sizes, from sole practitioners to 4 partner firms. We have cracked the accountants marketing code and members are getting a constant flow of enquiries, leads and new clients. Most importantly, these aren't just any type of client, these are your ideal type of client who want value added services and are prepared to pay the right fees.
Membership of the group includes a combination of coaching, consulting, training and tools all designed to accelerate your firm's growth. In the digital and social age, your marketing could be the difference between Doom, Gloom and BOOM and the following case studies illustrate the impact of membership can have on your future growth, profits and business value:
A Melbourne sole practitioner based in the CBD and their website has consistently generated more than $100k of new business for the past 3 years. The Principal of the firm, Paul Dobson says:
"Whenever I need anything creative or marketing related I know I can go to Pat and the team to produce something special. Everyone at PJ Camm & Associates 'gets' professional services marketing."



Click here to read SBG's Case Study
A suburban sole practitioner based in Malvern that continues to attract their ideal type of client who want more than just tax compliance work.
"I would say to any accountant who is busy working in their practice and struggling to get their marketing plans in place, the Accountants Accelerator Group is the answer. They customized our website to our niche industries and specialist services and it is generating quality leads. "
Click here to read Nexus' Case Study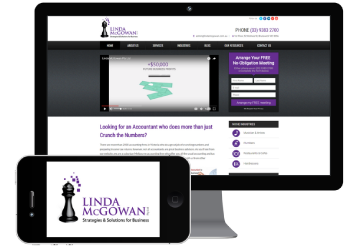 A suburban Melbourne accounting firm who have enjoyed explosive growth over the past 4 years. In fact, in the financial year ended June 30, 2017 the Accountants Accelerator Group generated more than $250k of new business for the firm. Linda McGowan says:
"They re-branded us to appeal to our target market and then built the stand out website in the accounting profession.."


Click here to read Linda's Case Study

The Accountant's Accelerator Group is a 'done for you' marketing program that includes your very own Automated Marketing Machine. The primary growth engine is your Accelerator Website and our group of accounting and marketing experts fine tune the engine to your industry niches, specialist services and geographic location. It doesn't matter if you're looking to attract plumbers, pharmacists or pig farmers, we craft your website content to position you as the industry expert.
Once built, the machine runs on auto-pilot to distribute your quarterly client newsletter (The Business Accelerator Magazine), post your blogs, capture visitor's contact details and share your content across the various social media channels. Using real time, cutting edge analytics we monitor the machine's performance and regularly service the engine with search engine optimization and keyword research.
The Accountants Accelerator Group is more than just a world class website. In fact, membership includes a combination of coaching, consulting, training and tools all designed to accelerate your firm's growth.In fact, to our knowledge, there's no other program in this country that provides the same value or return on investment. It is simply the most comprehensive and unique practice growth system available in Australia for ambitious accountants.
A DONE-FOR-YOU MARKETING ENGINE …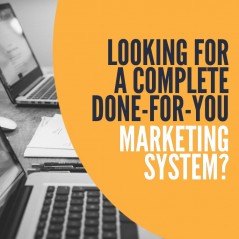 Most firms recognise they need to improve their marketing but don't know where to start. You want to generate more leads and more new clients but running your practice constantly gets in the way of executing your marketing plan. The Accountants Accelerator Group is a 'done for you' marketing system and because you are time poor, we design and build your marketing engine. It requires very little time and effort at your end apart from helping us write the history of your firm and your staff profiles. We supply you with templates to make these tasks relatively easy. If you're sick of hit-and-miss marketing it's time to apply to join the Accountants Accelerator Group.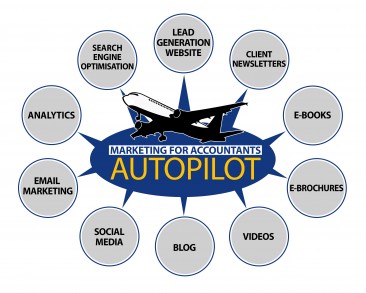 ACCELERATOR WEBSITE - LEAD GENERATION WEBSITE
First impressions count and your website is often the first touch point with a prospective new client. Your Accelerator Website is included in your first year's membership fee and it is the epicentre of your online marketing strategy. It's primary purpose is to generate leads so you'll find it's attractive, interactive and responsive to mobile devices.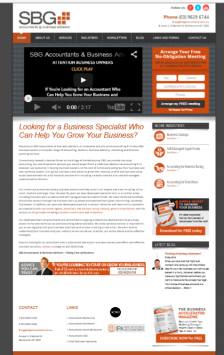 These websites target your ideal type of client, feature your industry niches and contain multiple lead magnets and calls to action. In the back end there is a simple content management system and email marketing system. There is built in cutting edge analytics so you can see in real time who is on your website, where they are located, what pages they have visited and what they have downloaded. It also tracks your clients activity on your website. This website will distinguish your firm from your competitors.
The website content includes some stunning animated videos that are designed to draw the right type of clients to your practice. The website is your silent sales person working 24/7 to promote your firm and build a pipeline of prospects.

Search Engine Optimisation - SEO

All the content on your Accelerator Website is crafted with Search Engine Optimisation in mind, to help you climb up the search engine rankings with Google. The content and keywords target your niche industries and specialist services while the blogs, newsletters and videos keep adding fresh content to attract the attention of search engines. Research from online ad network Chitika suggests that 60 percent of web visitors don't go beyond the third listing on page one.

Conversion Rate Optimisation - CRO
Every page on your website is optimised by expert copywriters to guide visitors through the sales process. The strategic use of calls to action, forms and free educational resources are all designed to convert prospects into clients.

Content Management System - CMS
The back end of your 'Accelerator' website contains a powerful Content Management System that allows us to automate your email marketing, manage your social media accounts, videos and blogs. It's a 'done for you' marketing system that works 24/7/365 without you having to think about it. This easy to use system also allows you and your team to login, post your own content and make minor changes without having to get in touch with your web developer.


Web Analytics
Your website includes real-time analytics so you can measure and monitor its performance. You can see at a glance your web traffic, monitor conversions, what pages and search terms are bringing people to your website and what your most popular pages are. The built-in Customer Relationship Management System allows you to see how individual clients and contacts act on your website.



VIDEO MARKETING
YouTube is now the second biggest search engine with over a billion unique visitors every month and the search engine algorithms now rank video content very highly. They have the power to engage and influence your prospects and can boost search results. In fact, a webpage with a video is 53 times more likely to receive an organic first page ranking on Google.

As a member, your video plan is tailored to your niche markets and membership includes production of 6 videos in year one (and 5 videos in subsequent years) that we embed on your Accelerator Website. We produce the scripts, record the footage in our professional video studio and do all the post production work on your videos. The finished product is a professional, high quality video and to view a sample of the videos click here

BLOG POSTS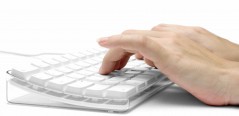 Blogging drives website visitors because published content gets indexed by the search engines and we can share them across your various social media channels. By regularly publishing blogs you build up a powerful library of content and each blog provides another avenue to your website. Membership includes a minimum of 18 blog posts each year to fuel your marketing machine and the authors are experts in both accounting and marketing so you are guaranteed quality, relevant content. The blogs are then automatically uploaded to your website and social media channels.
Statistically speaking, firms that blog only 1-2 times per month generate 70% more leads than those that don't blog at all.

CLIENT NEWSLETTER - THE ACCELERATOR e-MAGAZINE
Every firm needs a client newsletter but the Business Accelerator e-Magazine is so much more than a newsletter. This magazine is produced on a quarterly basis and is exclusive to members of the Accountants Accelerator Group. It is distributed to your clients via the email marketing system built into the back end of the Accelerator Website and all the content is embedded on your website.



Newsletter content is crucial and too many accounting firms subscribe to 'off the shelf' newsletters that are full of technical tax law. The fact is, clients don't want to do a Masters of Taxation by correspondence. They want to grow their business, their profits and their wealth so your content should be about marketing, SEO, websites, business growth strategies and wealth creation tips. The newsletter also promotes your full range of services beyond compliance.

SOCIAL MEDIA
The program includes building and maintaining your social media accounts. Your content (blogs, newsletters and video) is automatically shared through your social media accounts (Facebook, Twitter etc.) via the Content Management System at the back end of your website.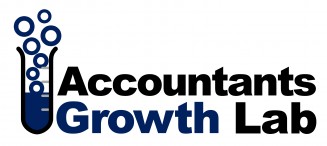 ENGINE MAINTENANCE IN THE GROWTH LAB
Without regular maintenance your marketing engine will under perform and eventually break down. For that reason we provide a maintenance service through our quarterly Accountants Growth Lab meetings.
At these meetings the members share their ideas, tools, innovations and their marketing results. We discuss what's working and share some new breakthrough marketing strategies and tools we have developed. It's a supportive environment and betwee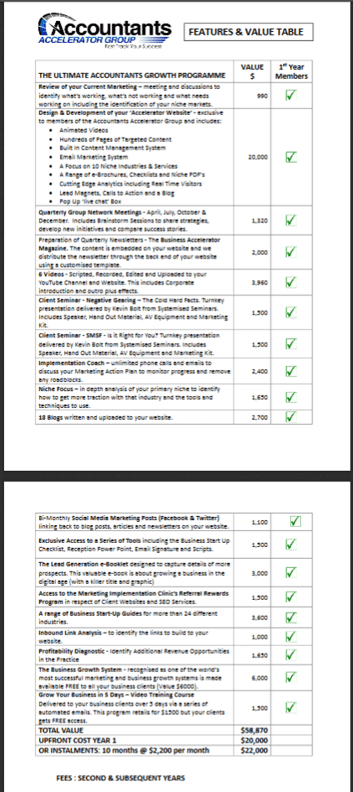 n meetings our community of like minded members support each other through our members only Facebook group. All our Accountants Growth Lab meetings are held in Melbourne but we stream them live on the internet to help our interstate and regional based members.
IT'S AN NVESTMENT NOT A COST ...
This table highlights the value you get in your foundation year as a member of the Accountants Accelerator Group. Year one includes the construction of your Accelerator Website that we conservatively value at $20,000 and you are getting $58,870 of value for your initial investment. This is a unique program for just 30 committed, pro-active ambitious accounting firms. We are extremely proud of the program and the results our clients are getting. We don't want hundreds of members because we can't service that number and once we reach 30 members we wind up the draw bridge and no other firms will be admitted until a member withdraws. Capping membership provides you with value and exclusivity.
As a member you also own a territory (including your suburb or town and 5 other surrounding suburbs or towns) and lock out your local competitors.
To my knowledge, there is nothing else like the Accountants Accelerator Group in this country. Sure there are 'coaching' programs for accountants but they generally tell you what to do but they don't do it for you.




Every member who IMPLEMENTS gets RESULTS but they will vary based on your location - city, suburbs or regional town. Your industry niches can also have a massive impact on your results.
If you're looking for a marketing 'silver bullet' or expect instant results don't bother applying. Marketing is a process that is planned, ongoing and follows logical steps. It takes Google takes 3 to 6 months to index your website content.

In business, if you keep doing things the same way you will continue to get the same results. If you're ready for growth we invite you to apply for membership of the Accountants Accelerator Group. We have room for just 5 new members in 2018 and if you want to apply for one of these spots we invite you to contact us today. It all starts with an informal chat to see if we're a suitable fit for each other.
The cost of the programme and the features are detailed on the attached schedule
TESTIMONIALS
A GAME CHANGER
"The Accountants Accelerator Group has been a game changer for us. In fact, every single week it generates new business leads and in most cases they are the type of client we really want. The conversion rate is almost 100% and ... the marketing strategies work and the tools are simply brilliant. The videos are attracting a younger client profile and the website, newsletter and blog content are all world class. ... each month we are breaking records. New client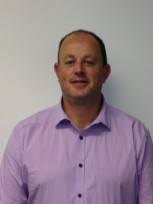 s create excitement in the office and the staff are buzzing with all the activity. Most importantly, 'we are walking the talk' and now offer clients marketing services and assistance with their website which is impacting on their traffic and bottom line. The AAG has given us a clear point of difference, a serious competitive edge and loads of referrals."
Paul Dobson, SBG Accountants & Business Advisors (Melbourne CBD)
$70K OF NEW FEES IN SEPTEMBER
"We have been a member of the Accountants Accelerator Group since inception and the results have been phenomenal. Our website traffic has quadrupled in that period and we average around 50 hits a day which translates to between three and eight leads most weeks. Our best month was September this year when we picked up 27 new business clients which we expect will end up being around $70k of new fees. It's not just the website, our social media strategies, blogs, videos and focus on niche industries and specialist services have all contributed to our success. The best part is it's all done for us and we just need to focus on rolling out the red carpet for the new clients.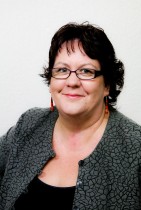 Pat's mentoring has been invaluable and I'm now very confident talking to clients about their marketing, website, SEO and social media. From day one our clients understand that the tax return is the start of the client process not the end and our consulting services are also generating quality referrals. Our biggest issue is now managing the growth which is a nice problem to have."
Linda McGowan, Linda McGowan Pty Ltd, (Brunswick – Melbourne)