Why Do Accountants Spend so Little on Marketing?

A US based marketing group (Hollinden) recently polled professional service firms regarding their marketing tactics and overall marketing budget. The results revealed close to eighty percent of firms invest less than 5% of their gross turnover on marketing. What percentage of revenue do you spend on marketing?
As a practice broker I'm privy to the financial statements of a lot of accounting firms. In Australia, very few accounting firms spend more than five percent of their gross fees on advertising and marketing. In fact, the vast majority of smaller firms (with fees less than $1M) spend less than one percent of their gross revenue on marketing.
Why is it so?
Well, the miserly approach to marketing might be a throwback to the introduction of GST nearly fifteen years ago. Almost overnight, every firm was busy dealing with the surge in GST compliance work and years later, most firms were still busy helping their clients come to terms with the 'new' tax system. In many cases they were still 'fixing' their client's computerised shoebox records and a decade on, most firms were still stretched to capacity trying to cope with the workload and client demands. However, in the background their client base was slowly ageing, their referrals were slowing and they got complacent about the need to market their services. I have labelled this the GST 'backfire' effect.
In a sense, GST disguised the need for accountants to market their services. As we approach the fifteen year anniversary of the introduction of GST in this country, the business and marketing landscape has changed. Clients want more than just compliance services, referrals have shifted online, the Yellow Pages book is virtually obsolete and compliance work has been commoditised. At the same, the internet has revolutionised marketing and offline tactics like radio, television and print advertising have lost their marketing mojo. Online searches, content marketing and social media are the new marketing magnets for accountants looking to grow their practice.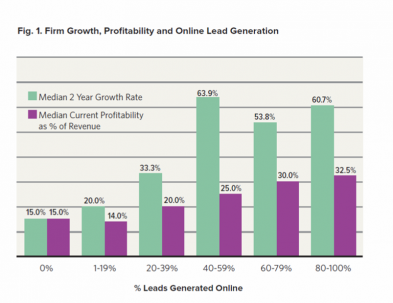 Research out of the US suggests that firms that generate more leads online are more profitable and grow up to four times faster. The attached graph (1) demonstrates the more leads a professional services firm generates online, the more profitable the firm. Profitability remains reasonably steady up until the firm generates about twenty percent of their leads, but profitability steadily rises along with the percentage of leads generated online.
The results also highlight the fact that firms that generate more leads online have a faster rate of growth. The results show that firms' growth rates rise along with the proportion of leads generated online, up until the point where forty percent or more of leads originate online. Firms that generate between forty and fifty-nine percent of leads online grew at four times the rate of those with no online leads.
The results indicate that currently 77% of firms are already generating some leads online. Almost half of the firms studied (46%) have redesigned their website within the past year and 66% of firms plan to increase their online spending in 2015. What is your marketing budget in 2015?
The good news is accountants don't need to spend five percent of their revenue on marketing. Online marketing tactics are a fraction of the cost of traditional marketing methods and the secret is having the right marketing tools and tactics in place. This includes a website that is designed to generate leads not an electronic billboard that simply lists the who, what and where of the firm. You need to apply some search engine optimization techniques to drive traffic to your website and you need content that targets your niche markets including industries and specialist services.

1 http://www.hingemarketing.com/library/article/online_marketing_for_professional_services