How Accountant Became Number One On Google
Increasingly accountants are asking me how they can claim top spot on Google for searches like "accountant Richmond' and 'accountant plumber'. They are starting to recognise the value of the search engine rankings and how top spot can produce a steady flow of new clients. Unfortunately only one person can have top spot and while the competition is high don't despair …
Not all websites are built equal and the accounting profession is littered with 'off the shelf' template type websites that are stuffed with generic content. In essence, they are just an electronic billboard that lists the who, what and where of the firm.
Don't be fooled, these sites can look fantastic but Google and the other search engines are 'colour blind' and cannot see the images or layout. They can, however, read the content and will downgrade websites in the rankings if they are full of duplicate content and not updated regularly. There is no point having a 'beautiful' website that your prospects can't find in the search engines because you are buried away on page 3 of the rankings.
New research from online ad network Chitika suggests that the top listing in Google's organic search results receives 32.5 percent of the traffic, compared to 17.6 percent for the second position and 11.4 percent for third position. What that means is 61 percent of visitors don't go past the third position and the traffic falls away from there. These findings validate the importance of Search Engine Optimization and the importance of appearing on page one of a search. The research also showed a significant drop in traffic from Page 1 to Page 2 results. On average, page 1 gets 91.5% of all traffic while page 2 manages less than 5% and page 3 just over 1%. The important message is this, very few searchers make it past the top three listings of the first page.
So, to really get results you need to be on the first page and ideally at the top of the organic search results. When a search engine like Google lists its search results, it gives you two types - organic and paid. Organic search results or 'natural' results are free and are the web page listings that most closely match your search phrase. When people talk about search engine optimization or SEO they are talking about improving your ranking in the organic results. The second type of search results are 'paid' results which are basically advertisements that the website owners have paid to have their web pages display for certain keywords. On a search results page, you can distinguish between organic results and paid results because the paid results appear above or to the right of the organic results. They usually have a shaded background and a border around them.
Research based on a sample of 1.4 billion searches conducted by 28 million UK citizens in June 2011 suggests 94 percent of people click on organic results on Google and Bing while only 6 percent click on paid search results. It's not much different in Australia and it explains why everyone wants that prized top position. If anyone 'guarantees' you top spot on Google I suggest you walk away because if that was possible Google would be ineffective and it explains why their search ranking algorithms are a closely-guarded secret. Incidentally, I keep referring to Google because research suggests 87.81 percent of Australians use it as their preferred search engine.
To win the coveted to spot Google offer some very simple advice, forget about trying to beat the system and focus on building a great website full of relevant and original content. A good search ranking will follow naturally.
So what makes a great site?
Even though we don't know Google's precise formulas, we do know they look at just about every aspect of your site: its age, domain name, freshness of content, HTML and page structure, accessibility, response time, social sharing, incoming links, "authoritativeness" (e.g. government domain names) … the list goes on. There's certainly a lot of debate at the moment about which of these factors are most important given the changes to Google's algorithims but but great, remarkable content remains king.
Search Engine Optimisation
Search engine optimisation (SEO) remains a science to make your website as accessible to the search engines as possible. It's almost a bottomless topic but start by reviewing Google's SEO Starter Guide. Small tweaks can make a big difference, but the single most important factor is content. Nothing beats original content, especially if you regularly publish new material. A simple blog can outperform the most carefully-crafted marketing site simply because the blog provides value to readers, so they keep coming back.
What about other search engines?
According to comScore, in June 2013, Google had almost exactly two thirds of the entire search engine market. Microsoft's Bing was at 17.9% and industry veteran Yahoo had 11.4%. "19.2 billion … searches were conducted in June, with Google Sites ranking first with 12.8 billion. Microsoft Sites ranked second with 3.4 billion searches, followed by Yahoo! Sites with 2.2 billion, Ask Network with 524 million and AOL, Inc. with 253 million."
That makes it pretty clear where to focus your efforts, but almost everything you do for Google will benefit your position on the alternative search engines too.
Off-site SEO
You don't even need a website to do some basic SEO for your company or organisation. If you haven't already, head over to Google Places for Business and claim your listing for free. This data feeds through to other services like Google Maps and Google Search – in fact you can get a great search result which takes up half of the top of a Google Search screen when people search for your business name. That's a pretty good return for a few minutes spent claiming the listing.
In conclusion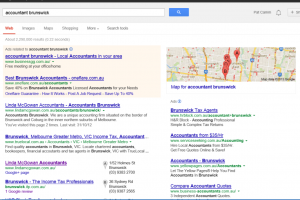 On average, for the search term 'accountants Richmond' there are 210 searches per month or 2520 per year. Imagine if you could get just 5 percent of those calls (126 calls) at your practice. Now I know the cynics are saying we have a suburb called Richmond in several states of Australia so what if I get the search statistics on 'accountants Essendon'. The keyword search tool reveals 1680 per annum. Let's say you get 5% of those calls and convert half those callers to clients who pay annual accounting fees of just $1500. Sound feasible?
We haven't even scraped the surface of the subject, but you can see why getting to #1 is not as straightforward as it might seem. They say, "imitation is the sincerest form of flattery" but be very careful if you are thinking of copying the content off another accountant's website, particularly one of our clients. We run scanning software every month to detect such theft and we currently have more than a dozen claims (and growing each month) in the hands of our solicitors. Planning not plagiarism is the answer. You need to recognise Rome wasn't built in a day and it takes time to plan and build a great website. In fact, when we build a website for our accounting firm clients we make more than 5000 edits and it takes close to 70 man hours to build a lead generation magnet. Next time we will explore some of our website secrets and if you are interested in our website offering contact us today or join us at our next Marketing Master Class Seminars for Accountants in 2014. Stay tuned for more details.