Breaking News For Accountants
When surveyed, clients often suggest one of the main reasons they change accountants is a lack of communication. Some clients might mention price, slow turnaround times or a failure to return phone calls and emails but failing to stay in touch is always high on the departure list.

Of course, one of the best ways to remain top of mind with your clients is to send a regular client newsletter. Your newsletter also helps you keep in touch with referral sources and can be the tool you use to introduce your firm to a prospective client. Every accounting firm needs a regular client newsletter and if you don't have one, you are missing an important marketing opportunity. A well crafted newsletter lets you alert clients to your full range of accounting, tax, financial and consulting services. It builds loyalty and while your newsletter won't directly lead to an engagement or 'sale', they often pave the way.
Ideally you should produce a newsletter at least four times a year and while most accountants could write and publish their own newsletter, it can be time consuming. You sacrifice valuable billable time and have to decide on topics, complete the research and then write the articles. You then need to format the final newsletter. This process can stretch your firm's resources and stall production and distribution.
Not surprisingly, many firms subscribe to a tax newsletter service like 'Client Alert' ($1260 per annum) or 'Tax Matters' ($780 per annum). The truth is, most 'off the shelf' newsletter services are full of tax law, cases and rulings which are of little interest to your average client. Most clients aren't interested in enrolling in a Masters of Taxation and the open rates can be relatively low. Clients really want to know how to grow their business and their profits and these newsletters generally don't satisfy their needs.
The challenge is to circulate your newsletter to as many clients, prospects and referral sources as possible. You should deliver it on time, every time because your newsletter can assist with client retention, cross-sell and up-sell your services plus help build new client relationships. They let you engage with your niche markets and provide the ideal forum to 'ask' for referrals.
We produce a quarterly client newsletter exclusively for Australian Accountants called, 'On the Money'. It comes customised with your firm name and logo and it is totally different to the tax newsletters mentioned above. The content is designed to educate your clients about money, marketing, finance, tax planning opportunities and business growth strategies. The purpose is to educate clients about strategies you regularly discuss with clients. The formula is to sell 'the why and the what' but not the 'how to' in your newsletter as you want clients to contact you for more tailored advice. It alerts clients to your expertise beyond compliance and strategically sells appointments because client curiosity often leads to a sale.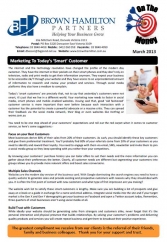 Each edition of On The Money passively asks for referrals and the newsletter is available in a format that allows you to:
1. Email the newsletter to your client base
2. Print the newsletter and mail it to your clients
3. Post the newsletter on your firm website
Despite the popularity of e-mail, clients still prefer printed newsletters. Surveys indicate that 33% of respondents prefer print, 21% favour email and 41% want to receive your newsletter in both formats. Printed newsletters have a longer shelf life and their physical presence can make a stronger, more lasting impression on the reader. On the flip side, electronic newsletters cost less to produce and are easier to distribute provided you have an up to date list of email addresses. Clients and prospects can then share your newsletter with their friends and business colleagues.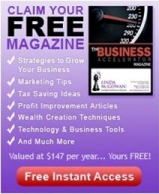 Your website should let visitors and prospects subscribe to your newsletter and build a database for future marketing campaigns. Your client newsletters, including archived editions, should also be available for download from your website.
On The Money is emailed to you in the first week of March, June, September and December each year. You can download a sample copy by clicking here and to subscribe simply go to /products/on-the-money-client-newsletter/ and complete your details. We will then contact you to obtain your logo in a suitable format and discuss your preferred newsletter starting date.
Pat camm