Brand Awareness - The Accountant's Guide To Branding Part 4
Fulfilling Your Brand

Your business name, tagline and logo are psychologically very powerful. They communicate your Unique Selling Points to prospects who don't yet know anything about your firm and act as a recall trigger for current and past clients.
But whether a person has positive or negative connotations upon seeing a logo depends on their experience with your firm.
Brand Awareness

Considering it takes 5 – 7 brand impressions before someone will remember your brand (Action Card), increasing brand awareness should be a top priority too. Here are the top 3 ways to increase your brand awareness:



Your Website
When people want something, anything, they search for it on Google.
So your website has become the hub of practically all their marketing efforts.
If you want to attract new clients, you'll be attracting them first and foremost to your website. So, when we say put your best foot forward, we mean put your best website forward. Your website should be a glowing beacon of hope for your ideal clients, providing solutions to their most fist clenching problems. It should clearly and concisely communicate your key brand messages so that at a glance they'll know they've found the right firm that can solve all their problems.
Remember, your brand isn't all visuals. Your website copy should repeat your positioning statement and your key messages throughout. And your website can only communicate your brand if it can be found so ensure your site is Search Engine Optimised to come up in the top results in Google.

Free Educational Resources
We live in an age of consistent, instant, mass communication. As a business owner, you're missing a huge opportunity if you don't capitalise on this.
Blogs, newsletters, email marketing and social media are low cost, high return communication channels which will introduce your brand to new prospects, build rapport with current clients and reposition your brand with old clients.
Remember, your clients don't want to do a Masters of Taxation by Correspondence … they expect you to be on top of case law and the latest legislation. They want to learn practical ways to grow their business, their profits and their wealth. So, steer clear of the latest tax law changes in your mass communication, and instead write about business growth tactics. See our examples below.



Video
In the section on Defining Your Brand, we discussed the importance of incorporating personal and emotional messages into your positioning statement. Services don't sell – people, solutions to problems and values sell.
With video estimated to account for 82% of internet traffic by 2021 (Cisco Visual Networking Index), there is no better way to add a personal touch to your brand than to embody your brand in a real person.
Service description videos, explainer videos, webinars, Facebook Live Discussions, staff introduction videos, client testimonials, Q&As will all play an important psychological factor in positioning your brand and personal, modern and memorable.
And, as you're 53 times more likely to appear in the first page of the Google search results with a video on your webpage (Source), video does a lot for brand awareness and visibility.

To learn more about redefining, and communicating your brand, download the full Accountant's Guide To Branding from the form at the bottom of this page.
Branding Consultancy and Services for Accountants

If you want your brand to be less bland,
have a look at our Brand in a Box and The Accountant's Accelerator Group services.

If you would like to discuss branding or marketing solutions for your accounting firm, you can make use of a FREE CONSULTATION with one of PJ Camm and Associates marketing and branding experts. Just fill in the form in the top right corner of this page, and we will get in touch to arrange your free meeting.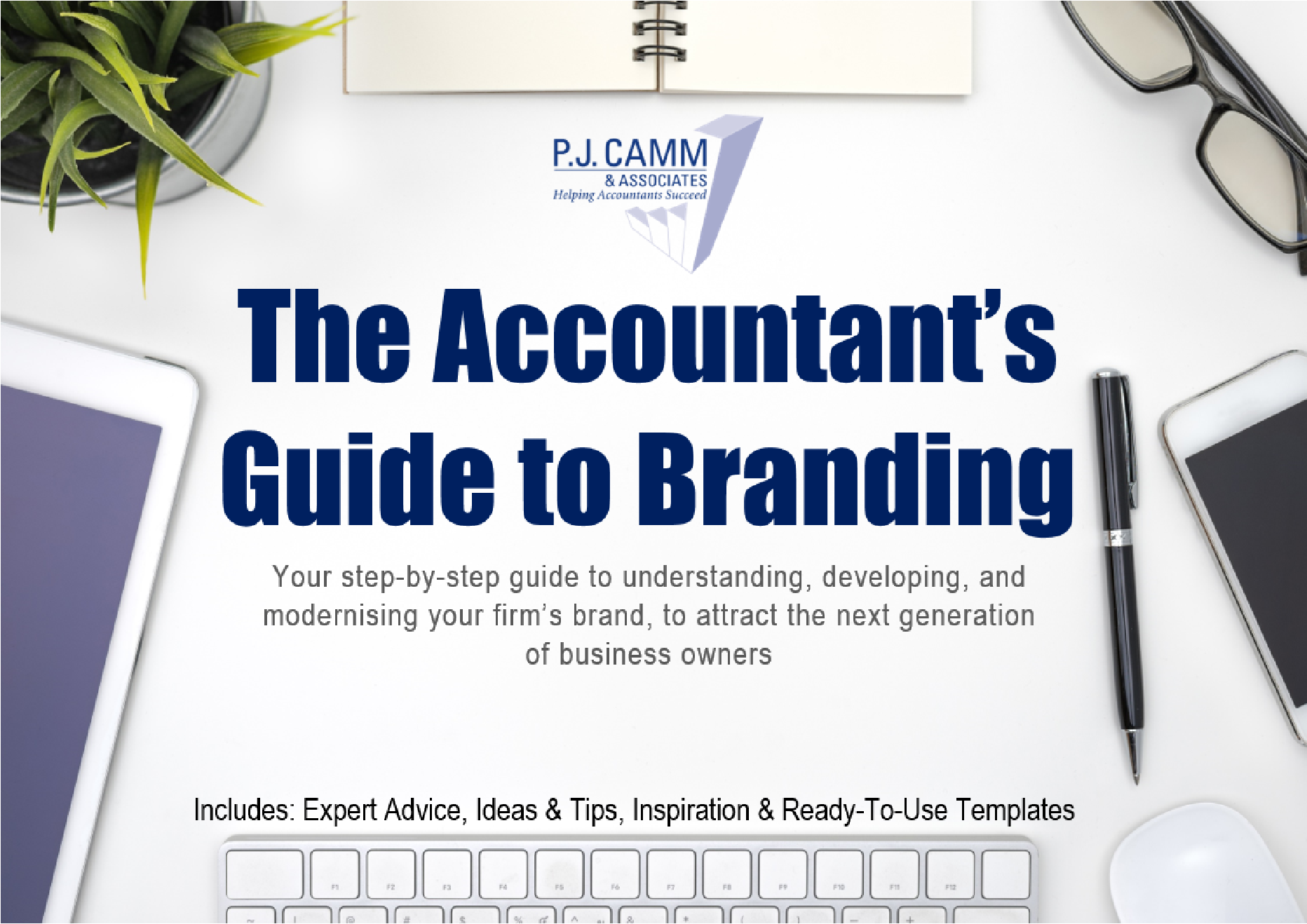 Download the FULL guide for free. To receive your free copy of The Accountant's Guide to Branding, enter your email address below: