Are You Still Relying on SALY?
SALY or Same As Last Year is no longer an effective marketing strategy. The accounting profession has changed dramatically over the last few years as has consumer behaviour and marketing.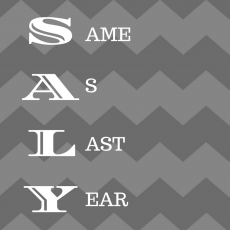 Part of the reason why the majority of accounting firms in this country are flatlining or in decline is because of the commoditization of compliance work. Outsourcing, electronic bank feeds and the automation of data entry has turned a lot of firms into 'compliance sweatshops'. Unfortunately a lot of these firms have no real point of difference and they compete for compliance work based on price. It's a recipe for trouble and the only new clients they win are low grade, low margin price shoppers.
They don't attract their ideal type of clients and their problems are compounded by the fact that their client base is ageing. Their top end clients are starting to wind down, retire and sell their businesses. Not only that, some of their biggest clients are passing the reins to their children who have decided it's time for a new accountant and a fresh pair of eyes to help take the business to the next level. Gen Y business owners want more than compliance from their accountant so the compliance sweatshops are leaking clients to the more marketing and tech savvy firms who do more than just keep the score. This generation pass judgement on an accounting firm based on their brand, website and social media activity. In a lot of cases they pigeon hole their parent's accountant as a dinosaur. It's not pleasant but it's happening.
Of course, an ageing client base translates to a slow down of referrals and many firms are looking to 'top up' and buy some fees. In Victoria we have several hundred registered buyers, however, the market is being starved by baby boomer practitioners who refuse to sell. They are working well beyond the conventional retirement age and opting to wind down and run a 'lifestyle' practise. Others are trying to ramp up their marketing using tried and true methods, however, the 'SALY' (same as last year) approach to marketing is business insanity - doing things the same way and expecting a different result. Traditional offline marketing methods like local newspaper ads, flyers and Yellow Pages are yesterday's hero and you need to turn your attention to online tactics like Google searches, content marketing, Google Reviews and social media.
If you need proof, research from Hinge Marketing tells us that professional service firms who generate 60% or more of their leads from digital sources are likely to be twice as profitable as firms who generate less than 20% of their leads online. It's compelling evidence in favour of online marketing and while I'm not advocating you abandon all those traditional offline marketing methods, you need to focus on online tactics.
REIGNITE YOUR REFERRAL ENGINES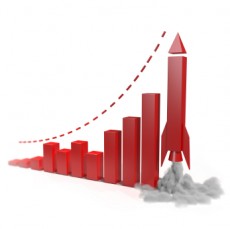 Historically, accountants haven't invested heavily in marketing. The introduction of GST disguised the need for marketing for a decade and client referrals have driven growth for the past fifty years. However, the landscape has changed and a lot of firms got complacent about their growth.
The next generation of business owners have different needs to their predecessors. Gen Y and 'millennials' operate differently and range in age from 16 to 36. They have grown up in an electronics-filled and increasingly online and socially-networked world. In the US, millennials have surpassed the baby boomers as the nation's largest living generation. The demographics in this country are similar and the millennials are the business owners of today and tomorrow. They have been raised under the mantra of "follow your dreams" and on average they start their businesses 8 years earlier than their parent's generation. They strive to work smarter (not harder like their baby-boomer parents) and you simply can't afford to ignore them.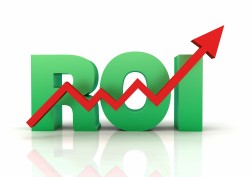 Unlike previous generations, they don't rely on word of mouth referrals. Instead, they put their faith in social media commentary and online reviews. When they get a referral to an accountant their reflex is to check out the firm's website. Unfortunately, this is where so many accounting firms let themselves down. In 90 percent of cases the prospects land on a website that could only be described as an 'electronic brochure'. It lists the who, what and where of the firm but not much else. The truth is, these websites make the firm look old, tired and boring. Your website's primary purpose is to generate leads and new clients. If it's not, it's time for an update, makeover or replacement.
BRAND OR BLAND?
Over the past decade we have helped dozens of accounting firms re-brand with our 'Brand in a Box' service. It's all designed to make the firm look modern, fresh and appealing to the younger demographic of business owners. If you're looking to attract 20 to 40 year-old millennial business owners you can't afford to bury your head in the social media sand. This is where they reside. They love watching videos on their mobile devices and they expect to see videos on your website. They will pass judgement on your firm in seconds based on your website, branding, social media activity and videos.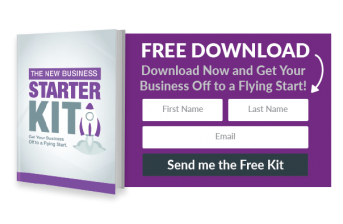 The websites we build for members of the Accountants Accelerator Group paint the firms as tech and marketing savvy. These websites position the members as experts in several industries and promote their specialist services. They are designed with the visitors' experience in mind and because not every prospect who lands on your website is ready to change accountants, they include pages and calls to action for each stage of the buyer journey. Those pages give prospects the chance to connect with your firm and continue the conversation, when they're ready. They contain various calls to action to guide prospects to take the next step which could mean book a consultation, call the office, download an e-book (lead magnet) or simply subscribe to the newsletter. They include carefully crafted educational content, videos, a blog and e-books.  
Of course, your website needs to be optimised for the search engines, rank highly and load quickly. Search Engine Optimisation or SEO is a science but it's not rocket science. Your content should target your ideal type of client (Gen Y and Millennials) and a number of member's websites are producing six figure returns year on year. In this edition of the General Journal we feature a member of the group, Linda McGowan, a sole practitioner in the inner northern suburbs of Melbourne. Linda's website traffic is phenomenal and her site has delivered spectacular results for the last 5 years. Her marketing is now on auto-pilot and she is very selective who she takes on as clients.
Marketing is obviously a lot more than just a website but it is the hub of your marketing activities. As such, you need to stop thinking of your website as a cost, it's an investment. If you want to position yourself as an accountant for entrepreneurs your website needs to spell out your point of difference. You can't expect an electronic brochure to generate leads.
COMPLACENCY KILLS
A lot of Partners and Principals got complacent about their growth on the back of the GST 'boom' but that era is well and truly over. They fell asleep at the marketing wheel and time flies when you are busy. In the blink of an eye your clients age and you need to read the warnings signs - clients retiring, selling their businesses, falling off their perches and defecting to other firms.
To maximise the value of your practise you need to keep growing and you can't afford to take your foot off the marketing pedal. Buyers are attracted to firms that are growing not slowing so you need to attract the next generation of clients and reignite your referral engines. It could be the difference between doom, gloom and BOOM.