Marketing For Accountants
How is it that some accounting firms are growing at phenomenal rates while others are flat lining or in decline?
In short, the answer is marketing. I'm not referring to traditional marketing methods that have served the profession well in the past because in the last few years the internet has caused a marketing revolution. In the digital age, face-to-face networking, letter box drops, yellow pages advertising, local paper advertising and sponsorships don't produce the same level of leads as they did five years ago. Radio, television and print advertising have also lost their marketing mojo.
Referrals remain the lifeblood of most firms but they have also dried up in recent times and the new marketing magnets for accountants are online searches, content marketing and social media.

To understand the shift in marketing you need to turn the clock back to the introduction of GST. Seemingly overnight, most firms became buried in compliance work and a decade later they were still busy. It may have been a new tax system for the country but it was a whole new world for accountants. Busy firms got complacent about their growth and marketing took a back seat as firms just assumed their satisfied clients would continue to refer their friends and business colleagues. In a sense, GST had disguised the need for marketing.
Fast forward to today and you'll find a lot of these firms have an aged client base. Their referrals have dried up because a client base full of fifty year olds don't refer like a client base full of thirty year olds. They are leaking clients who are now retiring, selling their businesses and dying. To stop the leakage a lot of firms are looking to buy fees but they are in short supply and prices are at peak levels.

In recent years there has been a fundamental shift in the way consumers make their purchasing decisions. The availability of free, high-quality information online has changed the way consumers buy goods and services. The internet has also changed the way businesses communicate with their clients and customers.

Historically, we used 'outbound' marketing techniques to 'buy' the attention of customers. We interrupted consumers with cold-calls, persistent sales representatives, pamphlets, brochures, radio, TV advertisements, newspaper ads, billboards and telemarketing. To stop the interruptions and unwanted advertising, consumers bought set top boxes to fast forward through the commercials, they stopped reading direct mail and signed up for the 'do not call' register to block the telemarketers.
These annoying outbound marketing methods have been replaced by 'inbound' marketing activities that are designed to bring visitors to your business. No more interrupting consumers to get their attention. Accountants now need to use inbound marketing tactics to promote their practice through blogs, podcasts, videos, e-Books, e-newsletters, whitepapers, search engine optimisation (SEO), social media marketing and other forms of content marketing. These methods are designed to earn the attention of potential clients and draw customers to your website by producing relevant, interesting and targeted content.
To tap into this market you need a serious online presence and an electronic 'billboard' or 'brochure' type website that just lists the who, what and where of your firm is useless. If you are looking to rejuvenate your ageing client base then it's time for a 'lead generation' website. In our opinion, the primary purpose of your website is to generate leads and new business. If your website isn't creating business it's time for a new website or an extreme makeover. Further down the page we will highlight some results accounting firms are getting using our Accelerator Websites.
Your website should be your marketing hub and if it lacks strategy, content, lead magnets, calls to action and search engine optimization (SEO) then your practice will probably never reach its full profit potential. Accountants with brochure type websites view their website as a cost not an investment but your website is the front door to your practice. It is often the first touch point with a prospective new client and you only get one chance to make a good first impression. Without a website you look like a dinosaur and prospective new clients will pass judgment on your brand and your practice in seconds. Your website can be the difference between boom and doom and it remains the most relevant and important piece of marketing technology for accountants.
Fifty percent of visitors to your website are probably using mobile devices (smart phones and tablets) to access your website. These devices live in the hands of your target market (25 to 45 year old business owners) but most accountant's websites are built using old technology and they are hard to read and navigate when viewed on these devices. If your website is not 'responsive' to these devices (i.e. change appearance based on the size of the screen) then your visitors are going to get frustrated and are a click away from visiting your competitor's website.
How to Rejuvenate your Ageing Client Base
If you're looking to sell your practice in the next few years you need to know that most buyers are only interested in one thing, the future maintainable fees of the practice. The first question a prospective buyer will ask is, "How old are your top ten clients?" Buyers get very anxious if the majority of your largest clients are aged over 55 because they justifiably fear their fees will disintegrate over the next decade.
An ageing client base is symptomatic of a firm that is relying on old marketing methods. They probably don't have a website and they have buried their head in the social media sand. They have no niche services or industries and their brand is old and tired. Unfortunately, an 'old' client base also means clients are retiring, selling their businesses and dying. Their social networks have shrunk so they don't refer like younger clients and increasingly, referrals are shifting online via social media channels. Younger clients are wired to social media while the fifty plus demographic are social media shy. 35 year old clients are starting businesses, buying investment properties and establishing their own self-managed super fund but clients in their fifties and sixties are winding down. These key types of services have driven growth in most small suburban accounting firms for years and we can help you tap into this market.
Without an online marketing strategy you won't replace your ageing clients. To compound the situation, some of these firms are also losing clients to other firms who are active online. The net result is these firms are flat lining or in decline.
To rejuvenate your ageing client base you need to change your marketing focus from offline techniques to online tactics. Referrals remain an important source of new business but increasingly consumers are going online to validate your credentials and your website must be more than an electronic billboard. To attract younger clients you need to build trust online and that means you need to provide quality information to educate your visitors. Your website must have links to your social media channels and be responsive to mobile devices. Content is king and that includes videos.
Video is Part of the Solution
YouTube is now recognised as the second biggest search engine behind Google and to attract younger clients you need to have video content on your website. You don't need the experience or budget of a Hollywood producer to create videos for your website because digital video production is relatively simple thanks to modern day cameras (including mobile phones) and desktop editing software.

Our video production service for accountants can help you create videos for your firm. You can order one or a bundle from the 20 scripts we have compiled. Everything from your introductory corporate video through to videos promoting your niche services and industries.
Before you Decide to Buy Someone Else's Fees …
Accountants are skilled in finding a quick fix or 'work around' solution for their clients. That might explain why so many firms think there is a marketing 'quick fix.' It might also explain why so many firms are looking to buy fees to plug a hole in their leaky client 'boat'. Currently, in our practice broking division we have more than 200 registered buyers and less than a handful of practices for sale.
Buying fees will not solve your growth problem unless you have a marketing plan in place. Close to eighty percent of vendors are baby boomers and their client database is often full of friends and family connections that are also baby boomers. As such, you could be buying more of the same, older clients in the twilight years of their business. Their referral engines have ceased up and often the practice is already in decline. The fees and your investment could disintegrate very quickly so you need to do your due diligence before you make the decision to buy. If you want a consistent flow of new clients from that client database you need a clear marketing plan in place.
In an attempt to stop the leakage and build an online presence, some of these firms have rushed out and bought a website 'off the shelf'. Unfortunately, these websites are really nothing more than an 'electronic brochure' that simply list the people, services and location of the firm. They contain no original content and are just the bare bones of what a website should be for an accounting firm selling professional services.
To attract traffic and prospects to your website you need to provide educational content that resonates with your ideal type of client. The first port of call for consumers in the digital age is your website and you must convey your professionalism and how you can solve their problems. The new formula for success requires you to create remarkable online content, optimise that content for the search engines, publish the content and market the content through your blog and social media channels. If you produce great content for your target market, clients will come to you. If you then deliver great service your clients will share their experience and refer new clients.
Time for a Marketing Makeover?
If your brand is old and tired and not in tune with your target market of 20 to 45 year olds then it could be time for a re-brand. In the digital age you need to look modern and fresh to appeal to your target market of Gen X and Y clients. You need to create the right first impression with online prospects. To help you we have created some ready-made brands that we describe as a ' brand in a box ' solution. It's all done including the business name, logo, slogan and stationery design.
Online Marketing
There is clear evidence that people 'buy' accounting services online. They start their research with a Google search on their computer, smart phone or tablet. They gather information and education online. Next, they use a search engine (89% use Google in Australia) to source firms that operate in their region, understand their industry or specialise in their problem area.
Their search phrase could be 'accountant for starting a business', 'starting a self-managed super fund' or 'accountant for musicians'. The local search ('accountant suburb') is very common and let me ask you this - Where do you appear in the search engine results in your suburb?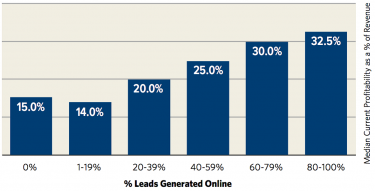 Research from the United States suggests the more leads a professional services firm generates online, the more profitable the firm. Profitability remains reasonably steady up until about twenty percent of leads are generated online, but profitability steadily rises along with the percentage of leads generated online.
The research also highlights the fact that firms that generate more leads online have a faster rate of growth. The results show that firms' growth rates rise along with the proportion of leads generated online, up until the point where forty percent or more of leads originate online.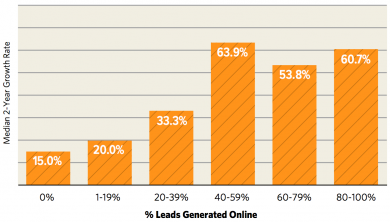 Firms that generate between forty and fifty-nine percent of leads online grew at four times the rate of those with no online leads.
Online success doesn't come easy. While the internet offers a 'field of dreams' in terms of potential sales, if you have a 'build it and they will come' mentality you are going to be very disappointed. Websites fail if you set and forget because it needs to be a constant work in progress and you need to produce regular fresh content including videos and a blog to spark the attention of the search engines.
NEED HELP WITH YOUR MARKETING?
The definition of insanity is continuing to do things the same way and expect a different result. If your practice is flat lining or in decline with an ageing client base, an electronic billboard as a website, no social media presence or videos and a tired old brand then you need to shift your marketing online and soon.
Over the past few years we have built websites for firms in our coaching club, The Accountants Accelerator Group that have given them a serious competitive edge. The results have been phenomenal using our 'website winning formula' with several clients generating more than $100k of new business every year for the last three years. One firm has generated close to $300k of new business in the last 18 months.
Having said that, there is no marketing silver bullet for accountants. However, your website should be your marketing hub and if it isn't a lead generator website that targets your niche markets then your firm will never reach its full profit potential.
If you're looking for a marketing makeover or want to fast track your business success we invite you to attend our 2016 Seminar – DOOM GLOOM or BOOM in October 2016. At this event we will lift the lid on the marketing strategies of the fastest growing firms in the country and reveal the techniques they are using to generate more leads, referrals and website traffic.
You'll also find our website contains a number of e-books and guides including The Marketing Essentials Guide for Accountants that is really just the tip of the marketing iceberg but introduces you to some valuable tools to help you get traction with some popular niche markets including business start-ups, negative gearing of property and trades people.
From the home page you can also download The Ultimate Guide to Winning More New Clients that contains our website winning formula plus some strategies to help you rejuvenate your ageing client base and maximise the value of your practice on sale.
Finally, our marketing consulting services are both broad and deep and if you want to take your practice to the next level we have our exclusive coaching club, The Accountants Accelerator Group. This is an exclusive business growth program for committed, pro-active and ambitious accountants looking for extraordinary growth. Members are introduced to a range of proven marketing strategies, intelligent software programs and cutting edge tools including a customised website that is loaded with quality content that focuses on your niche services and industries.
If you are looking to re-ignite your marketing engine we invite you to look at our range of marketing services exclusively for the accounting profession. They include:
Of course, if you don't know where to start book a free, no obligation introductory consultation. Call us today on (03) 9824 5300 and let's get to work on your marketing.

P. J. Camm & Associates Pty. Ltd. - Helping Accountants Succeed