BUSINESS START UP MANAGER for ACCOUNTANTS

How many times have you sat down with a client to discuss the establishment or purchase of a new business? As an accountant your answer to this question is probably dozens if not hundreds of times!
You start the interview with a series of 'fact find' questions about their proposed business venture then you discuss alternative tax structures, registration requirements for TFN, ABN and GST. Next you discuss issues including accounting software options, business insurances, the methods of claiming motor vehicle expenses, finance options and possibly the preparation of a business plan. Sound familiar?
At the end of the meeting, what do your clients leave your office with? Apart from their head spinning with information overload, most accounting firms suggest their clients leave virtually empty handed or with simply a photocopy of your scribbled notes from the meeting. The advice is generally all verbal and probably forgotten within 48 hours. Not any more …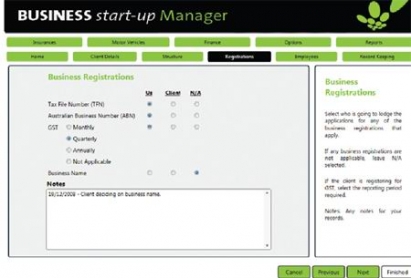 Business Start-Up Manager is a software program that gives you an electronic checklist of topics to discuss with clients starting a business. You systematically work your way through the tabbed sections and click on the appropriate boxes with your selection. For example, if you need to register the client for GST, a TFN or ABN you simply tick those boxes on the checklist and it will pre-fill this detail on both the letter of advice and your tax invoice for the consultation.
The program automatically generates a detailed 4 to 5 page letter of advice based on your selections and this letter can be edited so you can add commentary on additional matters you discussed at the meeting. It also produces a two page summary of the nominated business structure including the various pro's and con's.
To complement the software we have also published a 44 page booklet, Starting or Buying a Small Business that answers all your clients' questions about starting or buying a business. It provides details of alternative business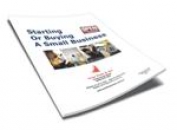 structures, the various tax registrations, insurances, accounting software options and issues to consider when employing staff or working from home. There is also content regarding legal matters like wills and instructions on how to prepare a cash flow budget and business plan. You gift a copy to your client at the business start up meeting so they have a reference guide they can read at their leisure.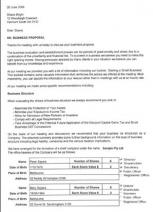 Business Start-Up Manager and the booklets offer accountants a systemised approach for clients starting or buying a business. It provides quality control and ensures that you (or your staff) have covered all aspects of starting or buying a business with your client. At the end of the meeting the client walks away with a tangible and valuable booklet and within 24 hours of the appointment they also receive a detailed five to seven page letter of advice (depending on what options you tick), a two page summary of the nominated business structure and your invoice for the consultation.
Putting the advice in writing improves the value of the consultation, reduces the risk of future litigation and improves the likelihood of future referrals. Accountants who use the software and booklets suggest they are 'brilliant tools' and you can buy Business Start Up Manager together with 10 copies of the 'Starting or Buying a Small Business' booklet for only $495. If you require the booklets printed with your firm logo and details on the front cover there is a one off artwork charge of $99.00 if you have never purchased any overprinted products from us in the past.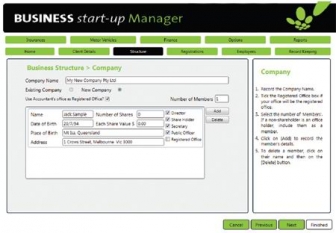 Additional booklets with your logo can then be purchased in lots of 10 for $16.50 each. The booklets are labelled with a recommended retail price of $49 so clients perceive real value when you 'gift' it to them at the meeting. They also serve as a valuable marketing tool when customised with your firm logo.
To watch a video of the program click on the play button below. To order the program simply complete your details below and click on 'Order Product' and we will contact you.
Order this Product